---
A Warning From the U.S. Department of Veterans Affairs

If you receive a suspicious e-mail from the Department of Veterans Affairs,
DO NOT OPEN THE E-MAIL OR CLICK ON ANY ATTACHMENTS OR LINKS.
The VA does not send e-mails asking for personal information, threatening e-mails, or e-mails claiming to take adverse actions on claimants or beneficiaries (jail or lawsuits).
If you receive any of these e-mails or are in doubt about any communications appearing
to be from the VA, please contact VA directly at 1 (800) 827-1000.
Phishing is a type of cyber-attack where the attacker sends a message designed to deceive
a person and convince them to reveal sensitive information to the attacker.  It is the most common means attackers use to gain unauthorized access to a device to obtain sensitive information.
Phishing e-mails can come from an unfamiliar sender or familiar looking sender with an e-mail address that is off by a few letters.  Additionally, phishing e-mails can include large or "too good to be true" offers or attachments.
The VA takes the security of Veterans seriously.
---
Legal Services for Veterans in Sullivan and Orange Counties

Legal Services of the Hudson Valley wishes to raise awareness of the wide range of free legal services they provide which include, but are not limited to, representation and/or advice in:
• Housing
• Foreclosures
• Child Support
• Consumer Issues
• Elder Law (e.g., preparation of wills, advanced directives, etc.)
• Domestic Violence
• VA Benefits
• Social Security and SSI Disability Claims
• Advocacy for Children
• Protection and Advocacy for People With Disabilities
Vets (or family members of Vets) in need of legal services should contact their main intake line at 877-574-8529.  If you have any questions or need information/assistance, contact:
Deanna Arden – Staff Attorney
Legal Services of the Hudson Valley
Veterans and Military Families Advocacy Project
60 Erie Street – Suite 201
Goshen, N.Y.  10924
914-368-2673
---
Are You Enrolled on The Roll of Honor?

If you or someone you know is a Purple Heart recipient and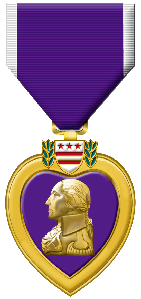 is not enrolled in The National Purple Heart Hall of Honor, please go to their website at www.thepurpleheart.com or phone them at (845) 561-1765 or 1-877-28HONOR.
The National Purple Heart Hall of Honor in New Windsor, NY is the only facility in the nation dedicated to collecting, preserving and sharing the stories of our nation's service men and women who have been killed or wounded while serving in the United States Military.  We rely on family, friends and Purple Heart recipients to share their stories with us.  We need your help to build the Roll of Honor database containing these stories.
To learn more about the Hall of Honor, share your story and FREE enrollment, visit our website at www.thepurpleheart.com or call The National Purple Heart Hall of Honor at (845) 561-1765
---
DoD Extends Limited Online Military Exchange Privileges to Vets
The Department of Defense announced a policy change that will extend limited online military exchange shopping privileges to Honorably Discharged Veterans of the military.  The Veterans online shopping benefit will be effective this Veterans Day, Nov. 11th.
For more information visit the Department of Defense website by clicking here.
---
Free Van Service to Castle Point VA Medical Center
There's a free van service to Castle Point VA Medical Center on Monday, Tuesday, Thursday and Friday.  Van arrives at the Medical Center at 9:00 AM.
Van departs the Medical Center by 2:00 PM sharp.
For Reservations, call (845) 291-2470
If you would like a copy of this schedule, CLICK HERE for a printable version.
Here are the pick-up locations and time schedule.
| | | |
| --- | --- | --- |
|  Location |  Departs |  Address |
| Port Jervis | 7:30 AM | VFW Post 7241 – 46 Barcelow Street |
| Greenville |  * | VFW Post 3175 – 1316 US Highway 6 |
| Middletown | 8:00 AM | American Legion Post 151 – 185 Wawayanda Avenue |
| Montgomery | 8:15 AM | Shop Rite Supermarket Parking Lot |
| Newburgh | 8:40 AM | Rec. Dept., Activity Bldg. at 375 Washington Street |
| Goshen | * | 30 Matthews Street – Parking Lot |
| Warwick | * | American Legion Post 214 – 71 Forester Avenue |
| Greenwood Lake | * | CVS Pharmacy Parking Lot – Windermere Avenue |
| Monroe | * | American Legion Post 488 – Lakes & Heaton Roads |
* Pick-up times to be determined per trip.
On Wednesdays the van goes to the Bronx VA Medical Center.  Pick-ups are in Newburgh and Middletown ONLY, and pick-up times to be determined per trip.
Van departs Bronx VA Medical Center by 3:00 PM sharp.
For Reservations, call (845) 291-2470
Vans do not run on county holidays.  Vans can make ONLY authorized stops.
Veterans are responsible for their own transportation to and from pick-up points.
Veterans with mobility problems should arrange to bring an escort.
No tipping or other fees permitted.
This van service is offered FREE OF CHARGE as a courtesy to Orange County Veterans.
---