---
The Passing of a Friend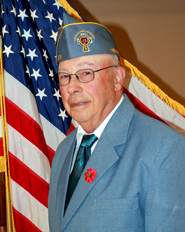 We regret to announce the passing of our friend and colleague Albert Naclerio.  He passed away unexpectedly on August 30th at home.  Al was an active member of our Post and there to lend a helping hand.  We just saw him at our picnic a few weeks ago.  He proudly served in the U.S. Army and retired from the NYPD.  He was also a member of the Knights of Columbus and several PBA organizations.  From Rockland County, he moved out to Montrose, Colorado and built a house on 40 acres of farmland.  In the early 2000's he returned to New York and settled in Gardiner.  Our hearts and prayers go out to his wife Catherine, his daughter Christine and his two sons, Vincent and Paul and to his grandchildren.
---
Memorial Day Week Ceremonies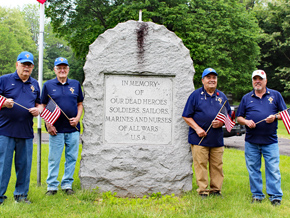 Several activities throughout the week as we commemorate those who have served.  Along with other Veterans organizations, our Post participated in a number of events including the placing of flags at Veteran grave sites at St. Francis Cemetery, the annual Memorial Day ceremony at the New Windsor Veterans Monument and our annual Memorial Day Mass and ceremony at Sacred Heart Church in Newburgh.  At left, past Commander Bob Murphy, John Cassidy, Ray Lopez and Commander Robert Schiela get ready for the flag placements at St. Francis cemetery.  And below are some pictures from the other events of the week.  Click on any of the pictures for the full view.
We begin with the annual wreath laying ceremony at the New Windsor Veterans Memorial at the corner of Route 9W and Route 94 in New Windsor.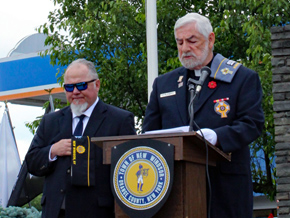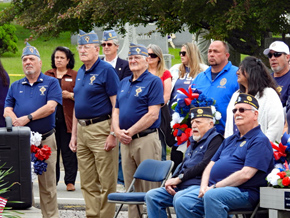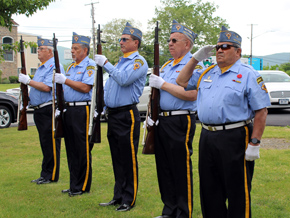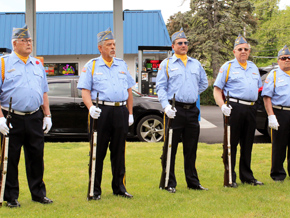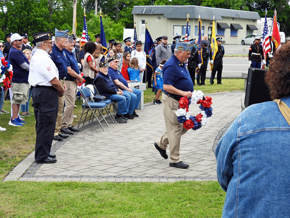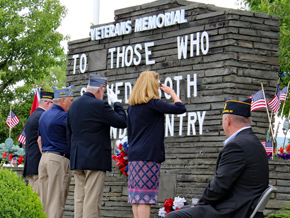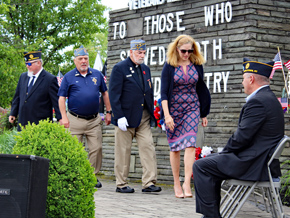 And on Saturday, May 27th we had our annual Memorial Day Mass said at Sacred Heart Church in Newburgh.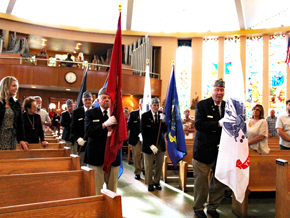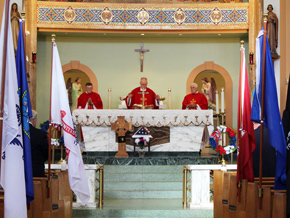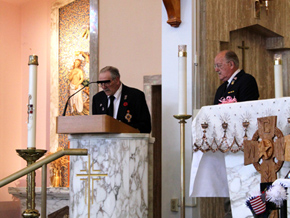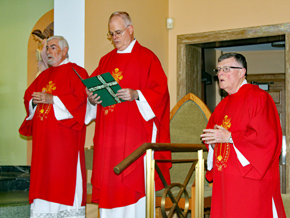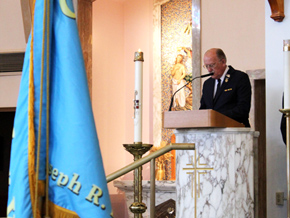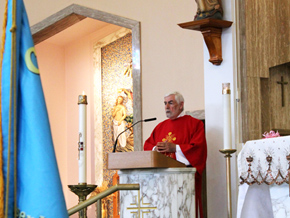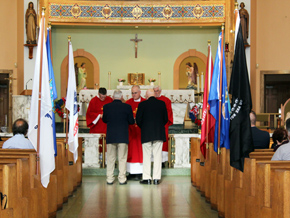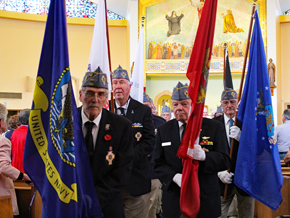 Following the Mass, as we do every year, we moved across the street to the Sacred Heart School and placed one flag for each of our deceased members in front of our Catholic War Veterans monument.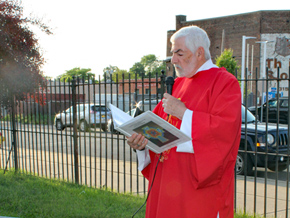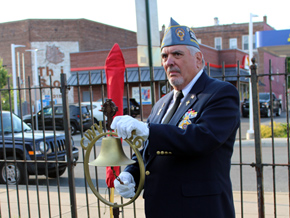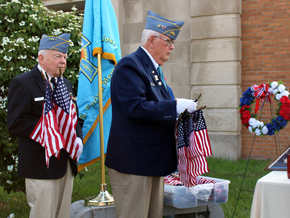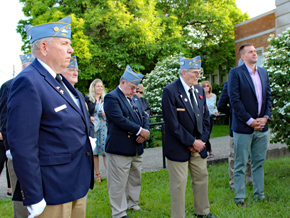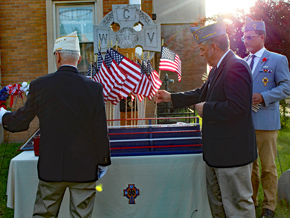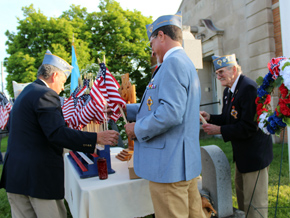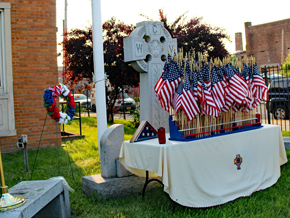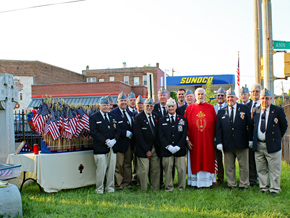 ---
The Passing of a Friend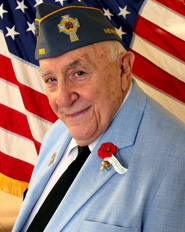 It is with deep regret that we announce the passing of our dear friend Andrew Civale.  Andy passed away on April 25th at the age of 92.  He enlisted in the Army in 1948 and was a member of the United States Military Academy band for over 27 years.  He was a devoted member of Sacred Heart Church in Newburgh.  In addition to being a member of our Post, he was District Deputy at the Hudson Valley Chapter Knights of Columbus District 53 and a Grand Knight of the Knights of Columbus Council 444.  Andy always had a smile on his face and had a great sense of humor.  Our best wishes go out to his family.  We'll miss you, "Chi, Chi"!
---
Hudson Valley Honor Flight Mission #29

Mission #29 left Stewart International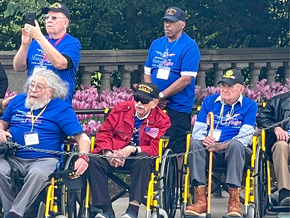 Airport on April 15, 2023.  We were honored to have 2 of our own members on board.  Kenny Lancaster and Jack D'Angelo took part in this mission.  See more pictures from their trip on our Hudson Valley Honor Flight page.  You will also see photos from some of the previous Honor Flights out of Stewart.
---
Hudson Valley Honor Flight Seeking Guardians

The Hudson Valley Honor Flight is seeking guardians for upcoming flights from
Stewart International Airport and Westchester County Airport.
If you are interested or know someone who is, Click Here.
---
The Passing of a Friend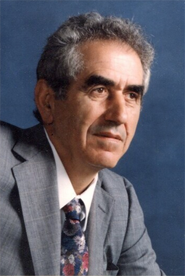 We are sad to announce the passing of our dear friend and brother Julius Boccia.  He passed away on Feb. 2nd at the age of 92 just one month shy of his 93rd birthday.
Julius proudly served in the U.S. Army from 1954-1955, stationed in Germany with the 2nd Armored Infantry Division (Hell on Wheels).  He served as Assistant District Attorney in Dutchess County from 1959-1963 and as Beacon City Judge from 1992-2000.  Our condolences to his loving wife Marian and his family.
---
Post 386 Christmas Luncheon

Saturday, Dec. 17th we had our annual Christmas Luncheon at the Temple Hill Tavern in New Windsor.  This year it was a joint celebration with our friends from VFW Post 1161.  Nice to see everyone in attendance and to some of our friends who couldn't make it this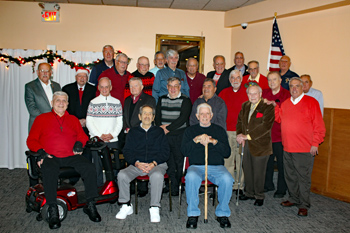 year, here's to better health and we look forward to seeing you next year.  Our thanks to the courteous staff at the Temple Hill Tavern for their hospitality and wonderful service.  Click on the pictures to get a larger view.
---
Memorial Day Cemetery Flag Placements

On Saturday, May 21st, Veterans from the American Legion Post in New Windsor, NFA JROTC, New Windsor and Vails Gate Volunteer Fire Companies, Boy Scouts and members of this Post gathered at Calvary, Mt. St. Francis and Woodlawn Cemeteries to install new U.S. flags at the gravesites of deceased Veterans and members of the First Responders.  Saturday was also Armed Forces Day, which was a perfect day to remember those who served our country.  Unfortunately, with the return of Covid, many of the participating groups were down in numbers.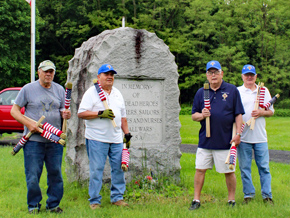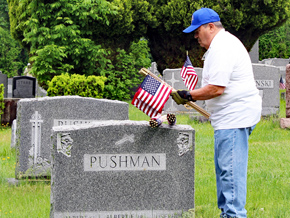 Pictured at left are Post 386 members Jim McGuiness, Ray Lopez, Bob Murphy and John Cassidy with flags at the ready.  At right, Ray Lopez preparing to place a flag at one of the gravesites.  Click on any of the pictures for a larger view.
---
Mike Lutz Inducted into NYS Veterans Hall of Fame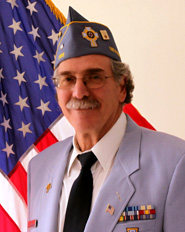 On Tuesday, May 4th, our own Mike Lutz was inducted into the New York State Veterans Hall of Fame.  The New York State Veterans Hall of Fame was created to honor and recognize outstanding Veterans from the Empire State who have distinguished themselves both in military and civilian life.  Their meritorious service to our nation deserves the special recognition that only a Hall of Fame can provide, as
a fitting expression of our gratitude and admiration.
Michael enlisted in the United States Navy in 1965.  He was stationed on the Destroyer USS Charles S. Sperry where he sailed around Asia and Africa and helped to build schools and small clinics in remote areas.  In 1968, he served as radio operator and machine gunner in Vietnam, earning
4 Battle Stars.  He left Vietnam in 1969, received an Honorable Discharge and returned
to his hometown in Rockland County.
After working for a few years at St. Regis Paper Company in West Nyack, Michael joined the Army National Guard 101st Signal Battalion, where he served in the Communications Division.  From 1973 to 1976, Mike transferred to a Medical Unit in the Army Reserves 815th Station Hospital at Stewart Army Subpost, as the Sergeant in charge of the Radio Communications Section.
In 1985, Mike joined the 105th Air National Guard at Stewart Air Guard Base working as
a Maintenance Scheduler on the C5A Galaxy airplanes.  Weekdays, he worked as a postal carrier in New Windsor.  After a total of 35 years of military service and 36 years total, of Federal service, Michael retired at the rank of Master Sergeant in 2007, and as a postal carrier in 2009.
Michael is a Life Member of this Post as well as a Life Member of VFW Post 1161 continuing his dedication to helping Veterans and serves as a Eucharist Minister, lecturer and usher at St. Francis Church in Newburgh.  Congratulations and "Way-to-Go" Mike!
---
New Windsor Veterans Day Ceremony

Here are a few pictures from the Town of New Windsor Veterans Day ceremony.  You can click on any of the pictures for a larger view.
---
Veterans Commemorate Purple Heart Day

Post 386 was honored to be a part of the Purple Heart Day commemoration ceremony at Washington's Headquarters in Newburgh.  It was on this site on August 7, 1782 that George Washington signed into law what we now know as the Purple Heart.  The Purple Heart Hall of Honor, VFW Post 1161, the Marine Corps League and the 105th Airlift Wing were also represented.
Pictured below are:  Michael Lutz representing VFW Post 1161, Frank Sommerlad of the 105th Airlift Wing, Richie Lay from the Purple Heart Honor Mission, George Reilly from the Marine Corps League and Commander Bob Murphy of Post 386.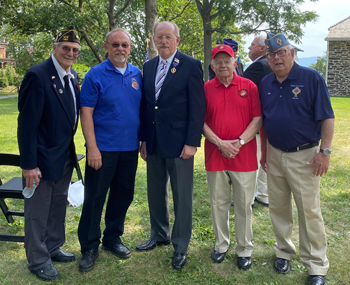 ---
Hospice Honors Heroes

Janice Valentino, the Director of Marketing and Community Outreach for Hospice of Orange and Sullivan Counties, Inc. was gracious enough to share this video with us.  Patricia Larkin, wife of the late State Senator William J. Larkin giving a first-hand account of the gratitude Hospice shows to patients who have served our country.  As you know, Bill Larkin was a charter member of this Post.  Thank you, Janice for sharing this with us.
---
A Donation to Support Our Heroes

Support Our Heroes, a non-profit organization that sends packages to our American servicemen and women overseas containing personal care items such as toothbrushes, lotions, lip balm, deodorants, shaving gel, etc. has received another donation from Post 386.  These care packages also include snack items like chips, cookies, beef jerky, pretzels, gum, granola bars and more to boost their morale and let them know they are not forgotten by the folks back home.  Service Officer Michael Lutz and Commander Bob Murphy present the check to the Founder, Lucy Mercado.  If you have a soldier serving overseas and would like to get a care package to them, you can cont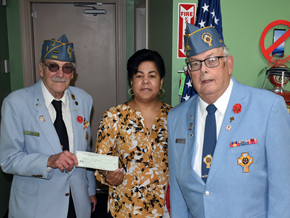 act Lucy for more information about Support Our Heroes and how they can help.  Monetary donations can be made through PayPal, or you can send a check payable to Support Our Heroes and mail it to:
Lucy Mercado
18 Windsor Square Drive
New Windsor, NY  12553
For more information visit them at www.supportourheroes.today
---
Big Losses For Our Post

We are deeply saddened to have to inform you of the passing of 3 of our active members.   March 26th, we lost one of our Trustees.  Rocco Panella, who served in the Navy during WWII passed away at the age of 96.  On April 18th we lost Army Veteran Alfred Hill.  Al was always on hand whenever we needed members to show up at an event.  And on May 15th we lost Officer Of The Day, Sal Foti who served in the Army-Air Corps during WWII.  Sal was 96.
Because of the Covid 19 pandemic, we were unable to have our customary ceremonies and funerals for these dear friends.  However, as soon as we get to some semblance of normalcy, we are going to honor these men with a special mass and ceremony.  We will post the date and time as soon as we are able to set this up.  These are 3 men that we will miss dearly and it hurts that we were not able to honor them in a timely fashion.  Please keep these men and their families in your prayers.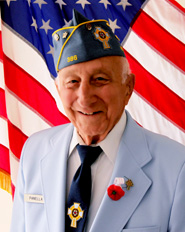 Rocco Panella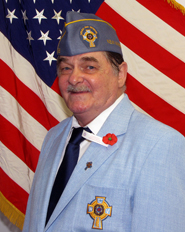 Alfred Hill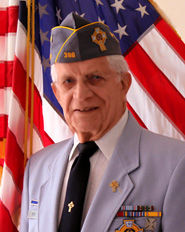 Sal Foti
---
9th Annual Hudson Valley Honor Flight Lunch of Honor

The Lunch of Honor was once again held at Anthony's Pier 9 in New Windsor on Sunday, November 24th.  A special thank you to Hudson Valley Honor Flight Volunteer Flo Santini who was gracious enough to share her pictures with us.  She has been a Volunteer for the Honor Flight for about 6 years now.
Three of the below images are from the Lunch of Honor and the fourth was taken at Stewart International Airport while we awaited the return of Mission #24 to welcome home our Veterans.  Thank you Flo, for the photos and for your continued generosity
to all of our Veterans.  You can click on any of the pictures for a larger view.
---
General Montgomery Day

September 7th we once again participated in the General Montgomery Day Parade.  Here are a few pictures of the event.  Thank you Elsie Mendez Garcia for the photos.
---
Loss of a Charter Member

On August 31st, former Senator William J. Larkin Jr. passed away.  Bill was a charter member of this Post and one of the Genesis Group responsible for the creation of the National Purple Heart Hall of Honor.  He was 91 and served his country and community for 75 years.
Bill served in WWII and in the Korean War during his 23 years in the Army.  After his retirement from active duty, he served for over 40 years in the New York State Legislature.  He was also a member of the Knights of Columbus, Veterans of Foreign Wars, American Legion, Disabled American Veterans and an honorary member of The West Point Society of New York.  Thank you Bill, for all you have done for Veterans, our Community and our Country.  You will never be forgotten.
---
The Passing of a Friend

We are sorry to announce the passing of one of our members.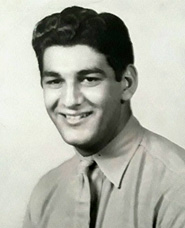 Joseph R. DeCaterina Sr. of Newburgh was a retired Lieutenant for the NYS Dept. of Corrections.  Joe passed away on June 20th at the age of 97.  He proudly served as a U.S. Marine from 1942-1945 where he served on a number of missions.  In 1943 he arrived at Funafuti, Ellis Island where he underwent enemy air attack.  He later participated in the occupation of Taiwan, Atoll, Gilbert Islands.  He was attached to and served with the 2nd Defense Battalion, Reinforced Second Marine Division, Fifth Amph. Corps during enemy bombing raids on the aforementioned station.  He was a proud member of the American Legion and this Post.
---
Salvatore T. Foti Scholarship Awards

Our Post recently awarded scholarships to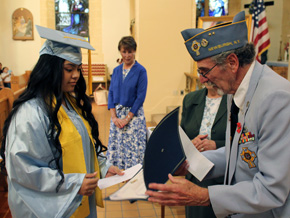 three graduating eighth graders in our area.
One student is from the Nora Cronin Presentation Academy in Newburgh.  Maria Garcia Martinez is pictured at right being presented with her award from our Service Officer, Michael Lutz.  The presentation took place at the graduation ceremony at St. Francis of Assisi Church in Newburgh.  In addition, the Post presented a $250 donation to Sister Iliana, the Principal of the school, to be used toward their summer program enabling five students to attend a cultural program in New York City.  Maria poses with Mike and at right, Sr. Iliana is pictured after Mike presented her with the check.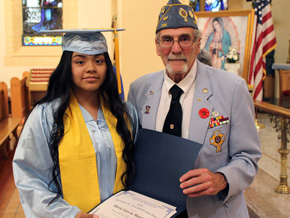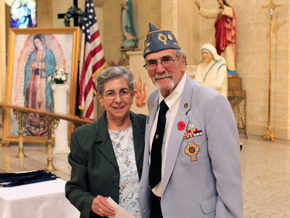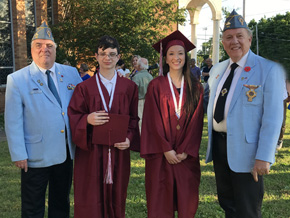 The other scholarships went to two students from Sacred Heart School in Newburgh.  They were presented to Jake Marcone and Macaylan Migdal at their graduation ceremony at Sacred Heart Church.  Doing the honors there were Commander Robert Schiela and Treasurer Jack D'Angelo.  All three students were awarded the scholarships for their outstanding essays "What a Catholic School Education Means to Me".  The Salvatore T. Foti Scholarships include a certificate and a cash award to be used toward their tuitions at the Catholic high school they plan to attend in September.  Congratulations and good luck to this year's winners!
---
Annual Memorial Day Mass and Ceremony

Our annual Memorial Day Mass and Ceremony took place on Sunday, May 26th at Sacred Heart Church in Newburgh.  And as always, our traditional Post 386 ceremony where we honor our deceased members followed across the street at the old Sacred Heart School.  Click here to see pictures of the event.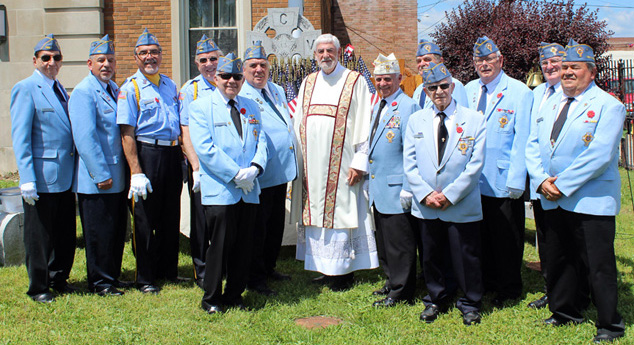 ---
New Windsor Memorial Day Ceremony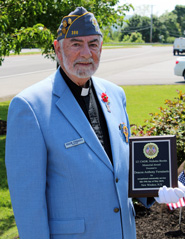 The Town of New Windsor Memorial Day Ceremony and Parade was blessed to have a beautiful day on Sunday, May 19th.  Since the surrounding communities also celebrate Memorial Day with parades and activities, New Windsor traditionally hosts their ceremonies one week prior.  This year, New Windsor Town Supervisor, George Greene presented our Chaplain, Deacon Anthony Ferraiuolo with the Lt. Cmdr. Nicholas Brooks Award for his dedicated service to the community.  Needless to say, we are proud to have been on hand to witness his recognition.
Town Supervisor Greene also spoke of the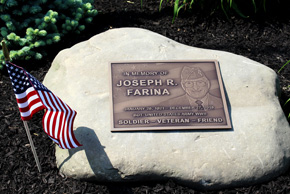 passing of one of New Windsor's finest gentlemen, Joseph R. Farina, who passed away this past December.  A permanent plaque was unveiled at the Memorial in his honor.  For pictures of the event, please visit our New Windsor Memorial Day Ceremony page under Recent Events.
---
In Memory of Our Fallen Comrades

On May 18th, members of Post 386 placed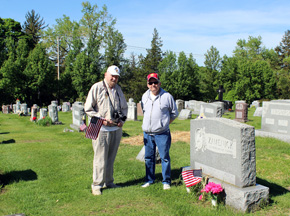 flags on the graves of Veterans buried at St. Francis Cemetery in New Windsor.  Pictured at right are Past Commander Jim Peloso and 3rd Vice Commander George Reilly.  And below are the rest of the members who participated that day to honor our fallen.
You can click on the photos for a larger view.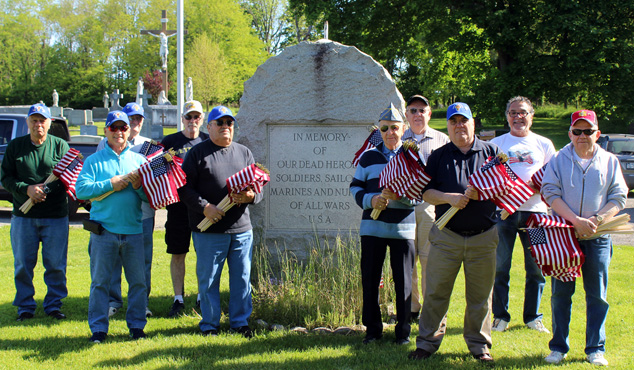 ---
Marlboro High School Memorial Day Luncheon

On May 16th the students of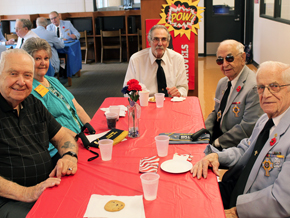 Marlboro High invited us to a luncheon at their school.   Here are a few photos from that day.  Pictured at right are Post members Bob Ibe, Mike Lutz, Primo Antonucci and Sal Foti.  Below left are our Commander Robert Schiela, Ray Lopez, Bob Murphy and Jack D'Angelo.  And below right are Jim McGuiness, John Cassidy and John Rasczewski.  Thank you Marlboro High School for remembering our Veterans.
---
The Passing of a Friend

We are sorry to announce the passing of our friend and Past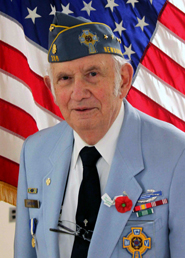 Commander of this Post, Anthony Garzione.  He passed away on April 22nd at the age of 88.  Tony graduated from NFA and proudly served in the United States Army during the Korean War.  After serving our country, he worked as an Associate Engineer for IBM until he retired in 1987.  Tony was active in the community not only as a Past Commander of Post 386, but also as a member of the Sacred Heart Holy Name Society, Sacred Heart Ushers, Lady of Fatima Group, Club 60 and the West End Couples Club Alumni.  Our prayers go out to his lovely wife Marlene, his sons Michael and Steven and the rest of his family at this difficult time.
---
Genesis Group Plaque Unveiled at The Purple Heart Hall of Honor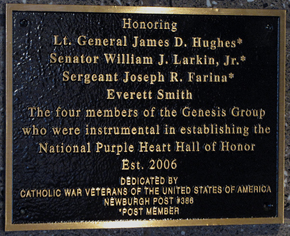 On Wednesday, Dec. 19th, CWV Post 386 presented a plaque to honor the founding fathers of the National Purple Heart Hall of Honor.  These men, known as The Genesis Group, consist of four local men who came together to establish a national center to remember and honor the thousands of men and women who were, are and will be awarded the Purple Heart, the symbol of our nation's recognition of those who sacrificed their lives during combat.  This medal is also given to those wounded in combat situations.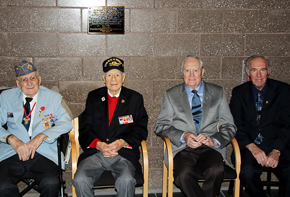 The Genesis Group are: Lt. Gen. James Hughes, USAF retired; NYS Senator William J. Larkin Jr.; Joseph R. Farina, personal radio operator for Gen. Douglas MacArthur in the Philippines during World War II; and Everett Smith, Owner and Publisher of the Orange County Post/Sentinel newspaper.  Three of these men, indicated by an asterisk on the plaque, are also members of Post 386.  Lt. Gen. Hughes flew in from his home in Virginia for this presentation and said he never expected to be honored for this venture, a comment reiterated by the other three members.  Whether or not they feel humbled by this honor, we, the people, should be thankful for their foresight and commitment in bringing about a sight of national importance to ensure that Purple Heart Veterans are instilled in the archives of history.
The Museum located on the grounds of Temple Hill Cantonment in New Windsor, New York, is an historic place where special events are held throughout the year.  It is operated and controlled by the Palisades Interstate Park Commission.  Admission is free, however, donations are accepted to assist with the upkeep and potential planned expansions to both the Revolutionary Museum and the Purple Heart Hall of Honor.  If you have not yet had the opportunity to experience this beautiful memorial, make it a point to stop in and see what's there.  You won't be disappointed!  Pictured below are some of the members of The Catholic War Veterans Post 386 with the Genesis Group.

---
Post 386 Honors Fallen Marine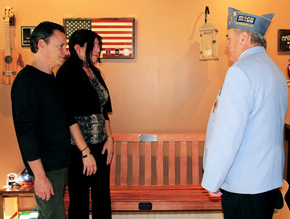 In keeping with our mission of Community Outreach, Catholic War Veterans Post 386 purchased a memorial bench and presented
it to the co-owners of Sweet Peas Cafe, Nina Baldassare and John Zippo, in memory of Nina's late son, US Marine Cpl. Daniel I. Baldassare.
Cpl. Baldassare was killed on July 10, 2017 when his KC-130 transport plane crashed in Mississippi.  He was one of the 9 crew members on board from the Marine Reserve Unit based at Stewart Air National Guard Base here in Newburgh.  All 16 people on board lost their lives that day.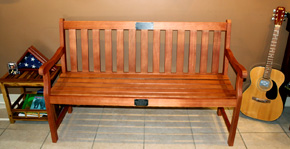 Mrs. Baldassare commented that the bench will serve as a reminder of her son's desire to serve and to be the best he could.  Currently, the bench is inside the Cafe among his other mementos.  But when the weather is warmer, she plans to put it outside for her customers to use.  John and Nina thanked the Post for their memorial gift and they both reiterated "God Bless those who serve."
Sweet Peas Cafe is located at 318 Blooming Grove Turnpike (Route 94) in New Windsor.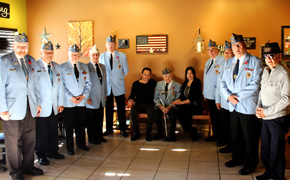 ---
Passing of a Friend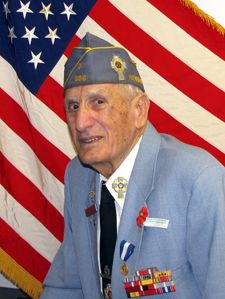 It is with great sadness that we announce the passing of our friend and Past Commander Anthony Buccieri.  Tony passed away on Thursday, Dec. 6th at the age of 94.  Anthony proudly served in the U.S. Navy aboard the USS Tuscaloosa in World War II and the Korean War.  He was also a member of the Knights of Columbus Council #444 and the VFW Post 1161.  Tony volunteered at Castle Point VA Hospital for 24 years.
Anthony spent the last 30 years advocating for the men and women who have served our country and reminding the younger generations of the events and importance of his generation.  He influenced many lives and will be remembered for his kind soul.
---
30th Anniversary of Post 386

On Sunday, October 14th we celebrated the 30th Anniversary of our Post.  We had a lovely dinner with music, dancing, a few laughs and the joy of just hanging out together.  Here's a picture of the members who attended.  Watch for more pictures of the event to be posted soon.  Click on the photo below for a larger view.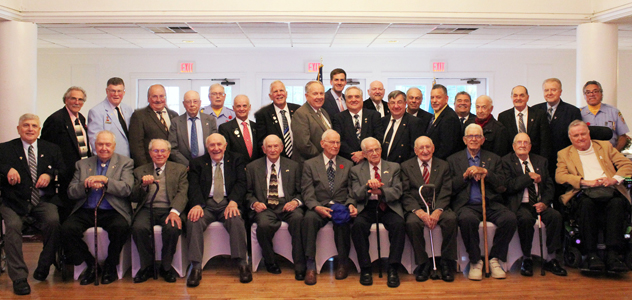 ---
Hudson Valley Honor Flight – Mission #21

Mission #21 of the Hudson Valley Honor Flight took off from Stewart International Airport on Oct. 6th.  Our Public Affairs Officer James Formato was on this flight.  And Post 386 was proud to be on hand to welcome him home.  The Honor Flights are a long day for our Veterans, but as any of them will tell you, it's an emotional and wonderful experience, and well worth the trip.  The emotions run the gammut, and this was articulated beautifully in a letter Jim sent to us after his return.  We are proud to share it with you (with Jim's permission), and to invite those Veterans that are eligible and haven't made the flight, to sign up for the next available spot.  Click here for pictures and to read Jim's letter.

---
Rosary Rally at Sacred Heart Church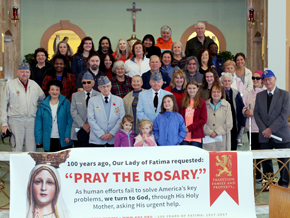 October 13th, Post 386 sponsored the Rosary Rally at Sacred Heart Church in Newburgh. Due to the weather conditions, the Rally was moved inside the Church.  In addition to parishioners from Sacred Heart and St. Francis Churches, we were joined by parishioners from St. Patrick's in Newburgh, St. Mary's in Fishkill, St. Thomas – St. Joseph in Cornwall and New Windsor as well as Most Precious Blood in Walden.  Thank you all for coming out to join us.  The participants want everyone to know their devotion to the Blessed Mother and Her intervention on behalf of our Nation.  God Bless the United States of America.  Click here for pictures of the event.
---
Veterans Breakfast at Vails Gate Elementary School

The Vails Gate Elementary School hosted a breakfast for Veterans in honor of Memorial Day.  Some of our Post members attended and enjoyed entertainment from the students.  Younger students handed out self-made "Thank You for Your Service" cards and shook hands with the Veterans and Active Duty personnel who were on hand for the event.
You can click on any of the pictures for an enlarged view.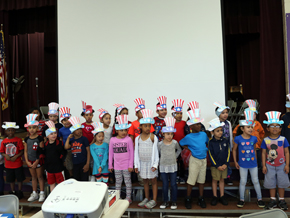 ---
Post 386 New Windsor Little League Team
Sat, May 21st was opening day for the New Windsor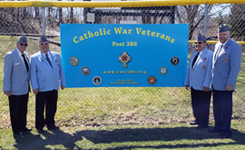 Little League and Post 386 was on hand to proudly show our support.  Pictured at right are Mike Lutz, Bob Schiela, Ray Lopez and Jim Peloso with our new sign which will remain at the Little League ball field on Cedar Avenue all season long.  We're also sponsoring one of the teams and Brayden Casale shows off his Post 386 team jersey standing next to his proud Grandpa (below left).  And below right, our members stand with the team during the Pledge of Allegiance.  You can click on any of the pictures for a larger view.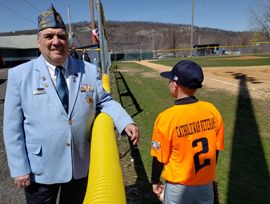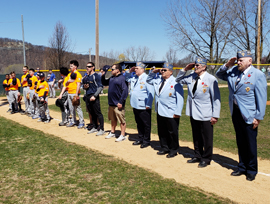 ---
NY State Special License Plates Now Available
Special Catholic War Veterans license plates are now available for New York State residents.  They are not available on line, by phone or at the DMV offices.  These plates MUST be ordered by mail.  This is what the plates will look like.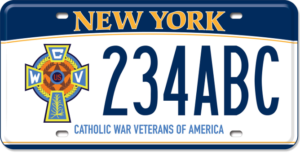 The cost of the plates is as follows:
There is a one-time initial fee of $38.75 to produce the plate.  Thereafter, you would just pay your normal registration renewal fee every 2 years.
If you want a custom plate (you choose the letters/numbers), the initial fee is $70.00.  Thereafter, you would pay an additional $31.25 each year IN ADDITION to your normal registration renewal fee.
To print out the application and instructions on your home computer click here.
---
Congratulations Jim Formato
Our National Commander, Arminda Crawford recently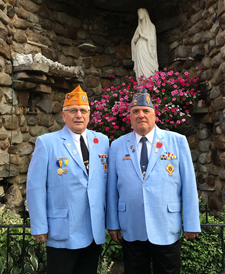 awarded the National Commander's Distinguished Service Award to James Formato.  This is the highest national award a National Commander may present.  Jim is the Public Affairs Officer of our Post as well as the National Chairman of the CWV Public Affairs Committee.  He has held both positions for the last 5 years.  Two years ago, then National Commander James C. Finkel awarded James the Silver Medal for Distinguished Service.  The award is usually presented at the National Convention, but due to other obligations, Jim was unable to attend.  The medal was presented to Jim in front of the Lourdes Grotto at St. Francis Parish in Newburgh.  He is pictured here with Post Commander Robert Schiela.  Congratulations Jim!  And thank you for all your hard work.
---
Newburgh's Civil War Monument Destroyed
In 1934 a Civil War monument was erected in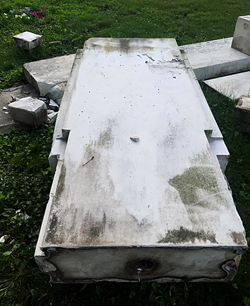 Newburgh's Downing Park by the Daughters of the Union, descendants of Newburgh's brave Civil War soldiers.  An early morning car crash destroyed the memorial in 2015.  The women of the local Defender's Chapter intended their memorial to last for the ages and teach generations to come.  Unfortunately, the many fractures to the old marble prevent its repair.  The Downing Park Planning Committee aims to restore this sacred space to our city park at the same location and in the original design they created.  The bronze dedication plaque has been saved and will be reinstalled on the new marble stone.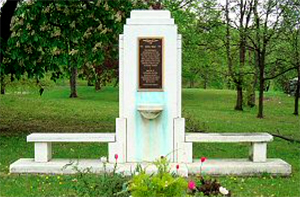 The photo at left shows the memorial before it was destroyed.  The members of Post 386 have made a contribution towards the restoration project.  If you would like to help in returning the Civil War Memorial to Downing Park, they have set up a Go-Fund-Me page at: www.gofundme.com/civil-war-monument-restoration
At right, Post 386 Commander Robert Schiela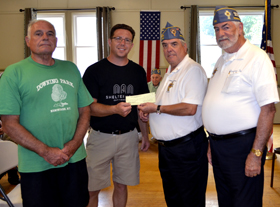 and Deacon Tony Ferraiuolo present a donation to Anthony Sculley and Steve Sinnott of the Downing Park Planning Committee to help them reach their goal to restore the memorial.
Involve your organization in events to bring them to their goal.  Corporate and group sponsors are sought for their 2018 rededication.
---
Congratulations New Inductees
On Friday, June 30th, 10 new members were inducted into Post 386.  Past Commander Joseph Farina conducted the swearing-in ceremony.  Our new inductees are pictured below with Commander Robert Schiela.  Click here to see more pictures.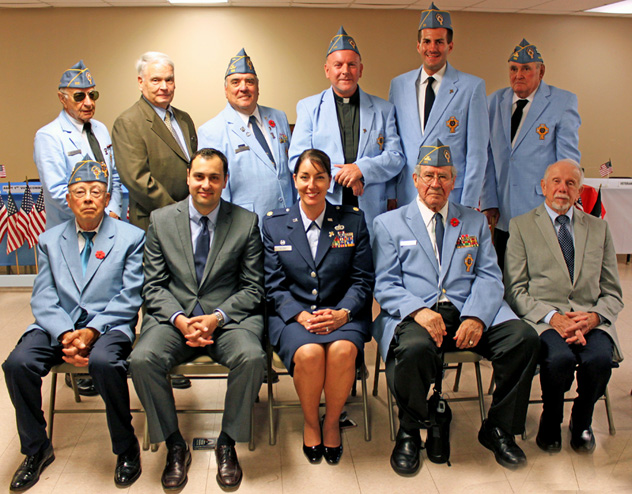 ---
Post 386 Makes a Donation to Nora Cronin Presentation Academy

On June 15th, the Catholic War Veterans Post 386 presented a check for $500 to Sr. Yliana Hernandez, principal of the Nora Cronin Presentation Academy.  This will give ten students the opportunity to participate in Nora Cronin's summer program to be held at the Academy.
Nora Cronin is a private Middle School for underserved girls in the City of Newburgh.  Nora Cronin Presentation Academy provides a pathway out of poverty through education.  They are funded through grants, donations and gifts in kind.  If you would like to learn more about them and make a donation, visit them at http://www.noracroninpresentationacademy.org/
Pictured above is Post 386 Cmdr. Robert Schiela, Sr. Yliana, 3rd Vice Cmdr. George Reilly and Treasurer Jack D'Angelo.  Below, some of the students who may benefit from our donation pose with our Officers and Sr. Yliana.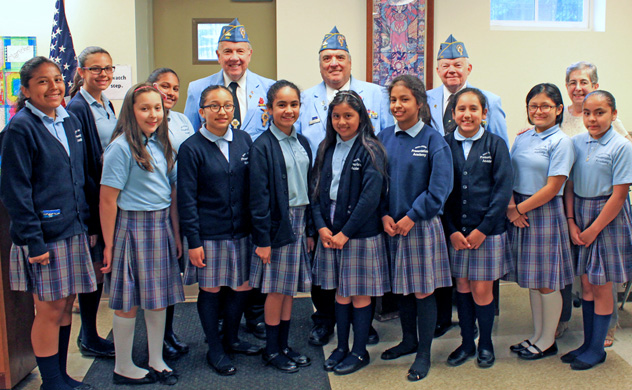 ---
City of Newburgh Memorial Day Parade 
Sat. May 27th, the city of Newburgh held its Memorial Day Parade.  The parade marched down Broadway to Washington's Headquarters, where Memorial services were conducted at the conclusion of the parade.  Here's the Post 386 Honor Guard getting ready to step off at the start of the parade.  (l. to r.) Bob Murphy, Joe Coyle, Steve Delgado, Jim McGuiness, Ray Lopez and Division I Marshall, Bruce Lubkeman.
---
Memorial Day Poppy Distribution
Over the Memorial Day weekend, Post 386 held its annual Poppy distribution drive at Adam's Fairacre Farms in Newburgh.  The tradition of the Poppy dates back to the first World War, where so many of our men and women gave their lives to protect our freedom.  Since so many of our soldiers were killed in battle while fighting in Europe, cemeteries were created there to permanently honor these courageous warriors.
In Belgium, in one such location known as Flanders Field, Poppy flowers bloomed over
the graves.  Since then, the Poppy has been adopted by Veterans as a symbol that we will never forget our lost comrades.
| | |
| --- | --- |
| | |
| Jack D'Angelo hands two young children their poppies as they place their donations in the cans. | (l. to r.) Mike Lutz, Al Hill, Tony Yozzo and George Post assist during the Memorial Day Poppy drive. |
---
In recognition of his high stature as a humanitarian and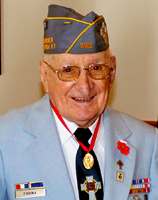 undaunted service to God, Country and Home, Post 386 congratulates our Founder, Past Commander and dear friend, Joseph Farina who has been awarded the prestigious Honor Legion of the Order of St. Sebastian.
Click here for pictures of the event.
---
Four Chaplains Day Program at the Purple Heart Hall of Honor
Members of our Post attended a program to commemorate the sacrifice of the
Four Chaplains who gave their lives on Feb. 3, 1943.  The program included a
brief biography of these four brave men, a 35-minute film that chronicled the
event that took their lives and a candle lighting ceremony.  The Hudson Valley
News Network (HVNN.com) was there to cover the event and filed this report.