---
Our annual Veterans Day ceremonies were held at the New Windsor Veterans Memorial at the corner of Route 9W and 94 in New Windsor.
 The Color Guard from NFA's Jr. ROTC leads the parade from the firehouse to the Monument.
The Post 386 Honor Guard and some of the crowd brave the cold weather to honor our Veterans.
Michael Hennesey from Orange County Div. 1 Pipes & Drums plays "Going Home" and "Amazing Grace".
The Post 386 Firing Squad.
The New Windsor Girl Scouts marched to show their support and recognition of Veterans.
Past Commander Joseph Farina and Commander Robert Schiela place our wreath.
The Post 386 Firing Squad fires under the command of Sergeant of the Guard, Ray Lopez.
After the ceremony, the display of wreaths upon the Town of New Windsor Veterans Memorial.
---
The 2015 Veterans Day Ceremony
This year, the Nicholas G. Brooks memorial was relocated to this site.
Lt. Cmdr. Nicholas G. Brooks, NFA Class of 1961,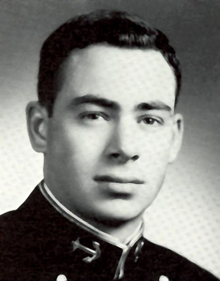 graduated from the U.S. Naval Academy in 1966.
He was a bombardier/navigator on an A6 Intruder
flying from the American Aircraft Carrier USS Ranger.
On Jan. 2, 1970, while on a dive-bombing attack in Laos, his plane was shot down.  Both him and his pilot were able to parachute out of the aircraft.  The Brooks family was later notified that Nick had been captured and escaped at least 3 times, but was classified as Missing in Action.  In 1982, his remains were returned to his family and at their request, he was buried at sea on March 25, 1982.  Each year, on Memorial Day, an outstanding citizen receives the Nicholas Brooks award, which is presented in front of the Nicholas Brooks Memorial.  Post 386 members who have received this award include:  State Sen. William J. Larkin, Past Commanders Joseph Farina, Judge Donald Suttlehan and James Peloso.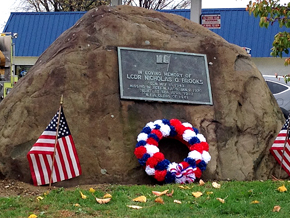 The Nicholas G. Brooks Monument