---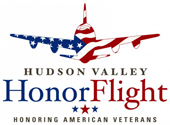 Stewart International Airport
Next Flight to be Announced

Westchester County Airport
Next Flight to be Announced

Hudson Valley Honor Flight (HVHF) is a non-profit organization which honors American Veterans for all their sacrifices.  They transport these heroes down to Washington D.C. to visit their memorials at no cost to them.
Hudson Valley Honor Flight flies multiple times a year out of Stewart International Airport and Westchester County Airport.  HVHF serves Veterans from Orange, Ulster, Dutchess, Westchester, Rockland, Sullivan and Putnam Counties in New York as well as Bergen County NJ, Pike County PA and Fairfield County CT.
Click on the links below for either a Veterans Application or a Guardian Application that you can print right from your home computer and printer.
Hudson Valley Honor Flight Veteran Application
Hudson Valley Honor Flight Guardian Application
If you are unable to print out the application, you can call (845) 391-0076 or visit http://hvhonorflight.com/how-to-participate/
---