The Catholic War Veterans Post 386 was officially chartered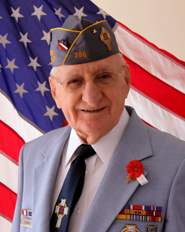 on July 11, 1988 at the Newburgh Country Club.  The Post was chartered with 101 members and Joseph R. Farina was installed as its first Commander.  He has served on the State and National levels of this organization.  In 2016 he received the Catholic War Veterans highest national honor when he was presented with the Honor Legion of the Loyal Order of St. Sebastian.
Joseph Farina was born on January 26, 1921 in Newburgh, New York.  He was educated through the Newburgh school system and graduated from Newburgh Free Academy in 1939.  He was a U.S. Army Veteran and saw combat in New Guinea and the Philippine Islands in World War II.
He received four battle stars, numerous medals and two Presidential Citations.  His
war experience is recorded in the National Museum of the Pacific War in Fredericksburg, Texas and the U.S. Army Signal Corps Museum at Fort Gordon, Georgia.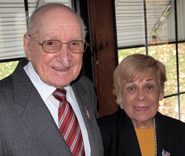 Joe owned a bowling center in Punta Gorda, Florida and
was manager of Bowl-O-Matic Lanes in Newburgh.  His managerial and promotional talents were recognized by the Brunswick Corporation in Chicago, and he was offered a contract to go to Australia to assist with the introduction of the sport in that country.  He was recognized as one of the major pioneering executives of bowling in Australia.  He married his wife Elizabeth in Brisbane, Australia in 1942.
Joseph Farina, along with Lt. General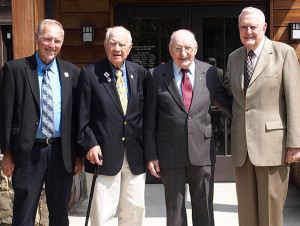 James D. Hughes, retired State Senator William Larkin and newspaper publisher Everett Smith comprised the Genesis Group.  These four men were instrumental in the establishment of the National Purple Heart Hall of Honor in New Windsor, NY.  He was also on the Board of Directors of the Hall.  In recognition of his outstanding achievements in Veterans Affairs, he was inducted into the New York State Veterans Hall of Fame in 2012.  Joe was also a life member of VFW Post 1161, a member of the 156th Field Artillery Association, a past member of the New York State Veteran's Legislative Committee in Albany, a past member of the New Windsor Lions Club and
a number of other organizations here and in Australia.